Top Sounds
Our curated picks of the top sounds on TikTok
Our Sound Highlight
Mood: 
SZA is back. I would be remiss if I didn't spotlight a song that dominated my FYP for several weeks (though catch it quick, we may be in the tail end of this trend).
Special shout-out to a TikTok song turned genuine hit: If We Ever Broke Up by Mae Stephens 
Video Highlight
Now, usually, I spotlight social impact orgs' videos but I had to take a break because this video is the best political video I've seen in the last two weeks.
Effects Highlight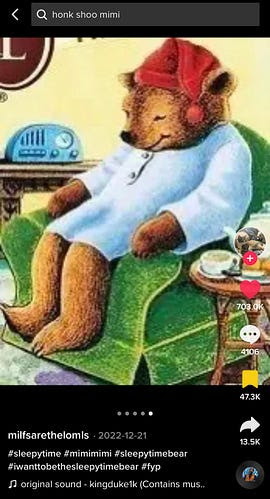 The photos feature is being pushed hard by TikTok right now. It's one of the most reliable ways to get views which is great for creators who have IG-worthy photos in a stockpile, or for anyone who thinks PowerPoint parties sound like fun. This is a great tool to tell a story and share recommendations.
The Moment
Issues that are at the forefront of online discourse— abolition.
Tory Lanez and Andrew Tate were testing abolitionists. Feelings of relief and victory abounded after Lanez was found guilty and Tate arrested. Amidst the news, a slew of tweets (mainly joking, some tinged with truth) from prison abolitionists reckoned with the cognitive dissonance.

Here's the thing, we might not need to do so much hand-ringing. Megan Thee Stallion, the victim, in the Lanez case got the result she was looking for. More importantly, she got the only result through the only means available to her.
What is important is ensuring this cognitive dissonance doesn't result in the abandonment of abolitionist principles. Abolition frameworks, after all, are an expansion of our current thinking. It isn't about putting justice aside. It's about rethinking justice so it can actually be just. Abolition allows us to look at men like Lanez and Tate, and wonder how a world with abolition might support preventative measures; how the carceral system often discards and harms victims. Abolition can be focused on healing, on ensuring a victim is safe and stable. We know gender-based violence is not only aided by but perpetuated by police and prisons, particularly when we adopt a lens that regards state violence against WOC as gender violence. A particularly glaring recent example is the continued abuse of women by David Carrick.
In moments like these, it is a good time to reflect on what we feel we have gained via arrests and convictions whether it be immediate safety or a sense of accountability, and use our imaginations to envision a better system that more accurately addresses victims and provides true justice.
 The Zeitgeist 
Hot topics from across the internet
The Menu killed noma, or at least that's Twitter's theory upon learning noma (often hailed as the best restaurant in the world) will cease to exist in its current form in 2025.
It's the best season, awards season. Jennifer Coolidge continues to be her wonderful self. Michelle Yeoh, Sheryl Lee Ralph, and Angela Basset have me sat and listening. And even my cold British self can't help but smile at Ke Huy Quan every time he gives a speech.
Gas stoves have become part of the Republican identity somehow? Here's the food-culture podcast The Sporkful's explainer.
The new sculpture in the Boston Common is confusing, according to the internet. Look, I can get down with abstraction but even I have to admit that The Embrace seemed to fail at embodying pacifism— at least in terms of how much anger it provoked.
A TikToker got read for romanticizing doing her taxes. It seems perfectly harmless, but also a great way to get audited or accidentally give away private info. That said, here's a funny response to the original.

Side-bar: I think an IRS influencer campaign wouldn't be a half-bad idea… Just stop doing this first, y'know?

An awkward British girl is winning, and it isn't me. Amelia Dimoldenberg, of Chicken Shop Date fame, keeps getting into these run-ins with Andrew Garfield, and it's causing jealousy.
The Takeaway
Social media management is changing on TikTok. The old tricks to net viral views (or at least break 5K) simply don't hold up anymore. That might be why social media tips pages have been frenzied in trying to respond to the changes in the TikTok algorithm.
The biggest change appears to be something I predicted way back in March, a shift in focus to longer-form videos and storytelling. As TikTok expands to new audiences, there is a distinct shift happening in content prioritization. Trending sounds are great, and music is still at the heart of the app, but there is a greater reliance now on engaging and informative content. A particularly interesting form of video that racks up views (hello, Twitter playbook) is negative topics. Telling your audience the worst thing that's happened to you, or the worst products you've used just seems to net more views. And with a negative stance comes engagement, chiefly through disagreement or shared trashing.

As ever, we'll have our eye out for new trends as the platform changes.
Made it to the end of this newsletter? Here's a treat, African cinema and LOTR.
Like Vocal Verified? Share it with a friend!